The marriage of antennas with energy collectors is called an 'aperture engine'. Did you know that this cool creation came from TEAM FRACTAL? Filed almost a decade ago, our latest invention will see patent issuance in the coming weeks, according to the Notice of Allowance from the US Patent Office. Expect IoT devices that are self-powered with dual-use conformal surfaces for the antenna array; satellites without separate antennas sticking out; microwave relays that are nearly flat, wireless units.
TEAM FRACTAL congratulates Dr. Nathan Cohen on receiving the Technical Achievement Award during this year's Hamvention. The most prestigious technical accolade of radio amateurs, the award recognizes Cohen's use of Part 97 for enhancement of the radio art, with his pioneering efforts on fractal antennas. A well-known and proud radio amateur (W1YW), Cohen used ham radio and modest resources, starting 30 years ago, to found a field of applied electromagnetics that now touches the lives of millions.
Did you know we are one of the world leaders in antenna array technology? Starting back as early as 2002, TEAM FRACTAL was DARPA-funded to advance the state of the art of antenna arrays—using fractals. And we haven't loafed. We now define the state of the art in wideband and MIMO arrays—using fractal antennas and fractal metamaterials, a FRACTAL exclusive
New US patent 9825368 covets what everyone now sees as important—making antennas with 3D printing! FRACTAL inventors Philip Salkind and Nathan Cohen saw that opportunity years ago and the US Patent Office acknowledges this novel technology as being created first by our inventors. 3D printing plays an integral part in making many of our successful fractal-based antennas for our customers. It's a FRACTAL exclusive!
The Radio Club of America, the world's oldest and most prestigious organization of wireless professionals, recently inducted FRACTAL CEO Nathan Cohen as a Fellow. Cohen was inducted for: "pioneering a paradigm shift in radio and electromagnetics with fractal antennas, fractal metamaterials, invisibility cloaks, and electromagnetic deflectors". Cohen, often dubbed "The Source", created fractal antenna elements and fractal resonators 30 years ago. Today, in 2017, these technologies define the cutting edge of electromagnetics and electronics. The induction was held at the annual RCA Awards Banquet, which also included renowned new awardees such as Ulrich Rohde, Eli Brookner, and James Breakall
At the RCA Tech Symposium, FRACTAL's Ryan Thistle and Nathan Cohen showcased our new FM/R technology with the presentation: "Fractal Metamaterials and a New Class of Directional Antennas", along with a fascinating demo. The presentation, viewed by dozens of top scientists and engineers, won first prize for "Best Technical Presentation". Congrats to Ryan and Chip! SEE the slides here: http://radioclubofamerica.org/wp-content/uploads/2017/11/8-RCATechSymp2017COHEN.pdf
FRACTAL is proud to have developed a new fractal-based antenna technology that will have broad use and significance in wireless applications. Follow the news for the upcoming announcement in Ju
The switch of innovation first connected for Nathan Cohen 30 years ago at an astronomy conference in Balaton,Hungary, listening to a lecture by Benoit Mandelbrot. Today, fractal antennas and related technology enjoy wordwide application, and validation in over 2000 publications. We are proud to have been the pioneers, inventors, and, today, the 'Go-To' source for this remarkable technology. Join us later in the year, when we celebrate the first fractal antennas built and tested—three decades ago.
CEO Nathan Cohen will be giving invited presentations on fractal antennas and fractal metamaterials at conferences at Cornell University and Brandeis University. The first results of our new breakthrough fractal antenna technology will be presented. Stay tuned!
With a solution to batteries' most vexing problem, FRACTAL reports the issuance the source patent which details our new geometry based solution to battery breakdown. The POWER of FRACTALS!
With Patent Day 2017 , FRACTAL is proud to announce 5 new patents(9,677,824; 9,647,271; 9620,853; 9,482,474; 9,134,465) to our portfolio in that many months. This continues our premier position in fractal technology and the 'Go-To' for antennas and electromagnetics solutions. There's lots more to come from Team FRACTAL, with dozens of pending patents!
Nathan Cohen gave a keynote speech at the Electronic Innovation Design Conference(EDIC) in Boston on September 21. Including a demo that enthralled and delighted the audience, Cohen demonstrated, at S-band, a fractal metamaterial invisibility cloak that made an aluminum foil wall into a RF transparent window. Normally this metal wall produces a feeble amount of knife edge diffraction, with almost no front scatter. By covering the aluminum foil wall with two layers of fractal metamaterial, evanescent waves looped to the other side, generated substantial front scatter down only 2 DB from an unobstructed path. Thus the wall became a window or a 'wal-dow'. Stay tuned for a video showing this exciting invisibility cloak demonstration.
Our customers have requested enhanced performance at VHF and now they have it. Our best-selling public safety antennas now include versions with better VHF performance down in the 150 MHz band! Contact Jane winter for details at jwinter@fractenna.com.
Fractal antenna systems has just been issued an NOA by the patent office, signaling the imminent issuance of the fundamental patent on fractal metamaterials. Heat dissipation and power transfer are two of many, key new uses, which also has the broad 'source patent' independent claim. Nathan Cohen notes: "This is a fundamental piece of applied physics with important applications in technology. Much of this has been independently verified post-invention, by university researchers across the globe. It is humbling and exciting to be the source inventor, and I am grateful for this recognition by the issuance of the patent."
Yes! FRACTAL has now succeeded at an innovative new approach to low PIM that is enabled in our DAS WORKS™ production. We are now in Beta testing with our Pimguard ™ DAS antennas--down to as low as --170 dB for PIM. Stay tuned…
We've just added two (additional) mobile chambers to our repertoire, with 4 more in the works. We love making and testing fractal antennas!
We've weatherized our famous UACM DAS/public safety antenna. Now customers worldwide are raving about the fantastic performance of our UACM--outdoors. Contact jwinter@fractenna.com for more info.
Our FRACTAL CEO has co-edited a definitive collection on all things fractal, woven around the genius behind it all--Benoit Mandelbrot. Professor Michael Frame at Yale and Dr. Cohen compiled this expansive collection, a must-have for scholars, researchers, and fractal fans. Available at bookstores and on Amazon, released May 2015.
FRACTAL is proud of our two recent patents--8,937,579 and 9,035,849-- on invisibility cloaks, and the fundamental new antenna 'fractal collar slip-on' technology that emerges as a spinoff. You can now buy our products which use that new antenna technology! SEE THE VIDEO
Celebrating the enablement of innovation from the US patent system, FRACTAL celebrated 'Patent Day' on May 19th. Here's a pic of the cake we enjoyed.
Our CEO gave a talk at the Radio Club of America and won the best presentation award. The talk? "3D Printing in Antennas and Electronics". Here is the company trophy that went with it
We haven't been idle on the patent front, with oodles of new filings on fractal antennas, fractal electronics, fractal capacitors, invisibility cloaks and 3D printing. New patents issuances coming soon?
With the addition in November, FRACTAL is now twice as big as its ever been and we are already pushing our new boundaries. Have you seen the new FRACTAL?
Time and again we here out customers ask for something different from what others put in their catalogues. We are happy to oblige, and with our rapid 3D prototyping, we can go to product in days or weeks-- not months. Looking for something different--and better ? Give Jane Winter a query at jwinter@fractenna.com. Here's a photo of some fun shapes to showcase our 3D printing ability.
FRACTAL now has its new UACM-PT available in-stock. The same performer and "architect approved" profile of the UACM, the 'PT' version has a much requested 2 foot cable extension. Installers, we love making your job easier! Contact Jane Winter at: jwinter@fractenna.com
FRACTAL has already outgrown our spiffy new headquarters in Bedford. In November, we will quadruple the production area , with separate areas dedicated for assembly, and product testing/QC. And its right next to us. Mr. C--knock down that wall!
Well, not exactly, but we now have a bunch and use them daily for production of fractal antenna parts--and the printers still keep reproducing….like rabbits. They chirp to each other like Furbies.
Our amazing, wideband DAS antenna continue to set records, with more shipments in Sept 2014 than all of 2012. Installers, architects, and end -users are hooked on the UACM's small and elegant profile, combined with wideband performance. A FRACTAL exclusive!
Dr. Nathan Cohen presents at the RCA Technical Symposium and Oz's 'New Directions in Fractal Geometry' around Thanksgiving. Enjoy!
FRACTAL is delighted to be in our new, spiffy location in Bedford MA, across from MITRE. With increased lab and manufacturing capacity, and a cool work environment, our new Bedford home says who we are: one of America's top hi-technology small businesses. Note our new address (in 'contact us') but same telephone. We look forward to welcoming you to the new FRACTAL!
Just back from an invited talk in Singapore, Dr. Nathan Cohen confirmed what we've known for a while--those fractal antennas are everywhere. " From the time I set foot in Logan Airport, our fractal antenna products were ubiquitous, and followed me every step of the way, to the other side of the world. It was a sobering and humbling reminder of the success of a technology that started on the balcony of my apartment almost 30 years ago." Must be something to those fractal antennas!
FRACTAL ANTENNA PRIMER-- OUT NOW
The first of several summary and introduction papers on fractal antennae is now available, in the latest issue of the Proceedings of the Radio Club of America. An online copy may be available on their website shortly. We are happy to provide a pdf copy to extant customers: contact ncohen@fractenna.com.
New! It's the DbMAX ™ Antenna!
When we say the 'world's smallest wideband antennas', it ain't hype, and it ain't hope. It's real: the dBMax™ antenna is incredibly tiny and a full service omni DAS antenna for 698-6000 MHz. Check out the press release, and request a data sheet from Jane at jwinter@fractenna.com
dBMax™ antenna has tiny footprint of a smoke alarm
Movin' on UP!
Yes, the rumors are true; we are moving to dashier digs the end of May, into the 'Electromagnetics Corridor' of Route 128 (thus validating Michael Porter's cluster theory--EM nerds like the same restaurants!) next to MITRE. Great space, increased productivity for our team and customers. More next month!
IWCE--Did We Catch YOU?
Our first TEAM FRACTAL trip to IWCE was a great success. Met lots of great people and learned more about the needs of our present and future customers. We listened! Several new products coming out, such as the new DbMAX ™ antenna. Lost the follow-up contact? It's Jane Winter, at jwinter@fractenna.com
M2M Antennas--Leading the World in Design!
Did you know that we are the 'go-to' guys for custom M2M antennas? This exploding market is riddled by issues that we solve for lunch! Let us tell you how Team FRACTAL makes it happen. Contact: Jane Winter at jwinter@fractenna.com.
An M2M Blackjack! Fan those winning hands!
Intern Success… a FRACTAL Secret
Our little secret--did you know that FRACTAL has among the most successful intern programs in the US? We take really bright high school seniors and college students and put them into the boiling pot of innovation. It's not always fun, but always real. Sizzle, but no fizzle! Here's one measure of success-- the schools that 2013 FRACTAL Intern Jake(you can see him in the 'windoor' video) got admitted : Princeton; Brown ; Dartmouth; Pomona; Chicago; Duke; Vanderbilt; UVA; Williams; UMich. Maybe we missed one or two--a tough choice! Congrats Jake !
FRACTAL FEATURED IN MICROWAVE JOURNAL
Pat Hindle from the Microwave Journal paid us a visit. He's captured the flavor of that day on a wonderful blog piece, and two awesome videos. If you've been skeptical of the invisibility cloak work, and of fractal antennas, you should see these. Take a look and enjoy!
FRACTAL ANTENNAS now Mainstream in Journal Nature
Did you know that in 1993 NATURE turned down the first fractal antenna manuscript-- over the phone, without even seeing the manuscript? It's true, and it took 2 more years to find a (ham) magazine to place the first fractal antenna article. Now NATURE has--finally-- caught up with the times, and has a feature article on fractal antennas and wearable electronics. We hold basic patents on aspects of this technology, and are proud of this truly independent source of technology validation by the University of Illinois team, in this prestigious venue!

Some of TEAM FRACTAL plays with new HFSS simulation toy. Fun!
HFSS New FRACTAL Tool
We now have Ansys HFSS up and running and are already using it for our customer's projects. Nathan Cohen has been modeling antennas for 40 years and says HFSS is the best sim yet. Shown is a Sierpinski bowtie fractal antenna being viewed for its metamaterial mode (at higher frequencies): did you know it had one ? And you thought it was just another antenna…even with its high (over 90%) efficiency…
YES, WE HAVE NEW ANTENNAS!
Two exciting wideband antennas are now new products for us. The first lots will be shipped to our existing customers and then we will make public these valuable new additions to DAS, M2M, and other apps. More next month!
OUR 20th Year!
FRACTAL enters its 20th year in 2014. What a ride! In 20 years we not only have become one of the top innovation firms in electronics, but seen our fractal technology enable a wireless world, make lives better, and even saved lives. We've also seen the 'tortuous path' of innovation tamed to our advantage, as the world continues to discover the benefits and value of fractal antennas and electronics. We'd like to thank all our customers for this generous trust in us and we will continue to meet your needs with the best and the innovative, for many years to come.
TWENTY FIVE YEARS OF FRACTAL ANTENNAS
History was made in 1988 when radio astronomer Nathan Cohen built the first 'fractal antenna'. Twenty five years (and counting) later, fractal antennas, fractal resonators, and fractal metamaterials are enjoying a boom in research and apps--world wide. We are proud to bring our important innovations to the world stage--and especially to our customers. Be sure to read Nathan Cohen's review: "Twenty Five Years of Fractal Antennas: Looking Back and Looking Forward" in the peer-reviewed journal IJAP this Summer!
Ingenuity then…..and now
NEW GOODIES= FASTER CUSTOM RESULTS
Lots of new tools bring FRACTAL to this productive New Year. Here a quick list:
• Six VNA's with coverage up to 20GHz
• Expanded anechoic range volume and frequency coverage
• Conductive coating system for our proprietary conductive plastic technology
• 3D printer with rapid prototyping
• Ansys HFSS antenna simulation software

META 2014 PRESENTATION
The world congress on metamaterials (META 2014) will feature an invited talk by Nathan Cohen: "Fractal Metamaterials in Antennas, Absorbers, Invisibility Cloaks, and Radiative Transport and Transfer". Some cool surprises in store. The world will be there. Come catch us in Singapore in May.
NEW LTE PRODUCTS COMING
FRACTAL has two new OTS products coming in January 2014. Unique in form factors and pricing, these two antennas , much as our world renowned UACM antenna, will become new standards. Did I say broad bandwidth? We offer full LTE coverage, with no pattern distortion from a faulty shorted- bicone design. Compare, and demand the best. You get it from the FRACTAL ADVANTAGE!
FRACTAL METAMATERIALS STOP DROPPED CELL CALLS
It's a common problem that few carriers will admit to--dropped cell phone calls at home. Now a solution exists, and that solution uses the very latest in antenna innovation, our proprietary 'fractal metamaterials'. Our customer's 'cell phone booster' is a tiny cube with active electronics, installed in countless of homes over the last year. It's becoming a standard fix for the 'fringe' problem. Enabled by our patented fractals!
SPECIAL ISSUE OF ANTENNA JOURNAL--FOR FRACTAL ANTENNAS
A new first for fractal antennas! We are proud to see that researchers world-wide will be contributing to a special issue of the International Journal of Antennas and Propagation, devoted exclusively to fractal antennas. Special issues signal acceptance of that topic into the mainstream and define its cutting edge. Move over skeptics--fractal antennas have arrived
FRACTAL SPONSORS RADIO CLUB OF AMERICA
FRACTAL was proud to sponsor the annual banquet of the Radio Club of America, in Orlando. The world's oldest radio communications organization, RCA continues its mission of encouraging innovation in the radio art while honoring its past. Above, part of TEAM FRACTAL poses during the enjoyable event.
INTERN ALUMNI UPDATE
We're proud of our intern alumni--several dozen to date. Some recent updates: Sean is completing a Ph.D. at Carnegie Mellon; Patrick is also completing a Ph.D. at MIT; Daniel graduates from Stanford in the Spring and then on to Bain Consulting. Alex graduates from Vanderbilt and now has management consulting offers from McKinsey and Bain. Our (paid) interns learn innovation first-hand and becoming the movers and shakers of tomorrow! Intern Drew from UMass mans the intern sails this coming semester. We will be looking for additional Summer Intern candidates in March, 2014. Watch the 'jobs' listing.
A GAIN-FUL SPONSORSHIP AT PHASED ARRAYS 2013
FRACTAL was a Silver Sponsor of the IEEE Phased Array Conference.
Featured by Eli Brookner as an important innovation, our invisibility cloak--world's first and patented-- was demo'ed by cloaking this huge maple tree trunk at L-band. Thin, omni in performance, wideband, and high fidelity, the invisibility cloak was a big hit, here shown to a crowd of the conference participants, with inventor Nathan Cohen practicing his finger exercises.

DREAMLINER NOW FRACTAL EQUIPPED
We fly high! One of several aerospace accounts, FRACTAL's tiny fractal patch antenna is now on all Boeing 787's, keeping the copper and weight to a minimum and safety as a priority. Nope; we are not part of the batteries
RADIO CLUB OF AMERICA GETS FRACTAL SPONSOR
FRACTAL is proud to be a sponsor of the RCA Banquet in Orlando. Proud in history as the world's oldest, RCA has a tradition of breaking new innovations (such as the invisibility cloak!) to the public. Below is Major Armstrong, an early prominent member. Come see us; we'd enjoy meeting you!
FRACTAL FILES FUNDAMENTAL PATENT ON RADIATIVE TRANSFER
Fancy name, but common idea--getting power to go from one place to another. Using fractal metamaterials, we've patented the range of applications. Enabling unique, and years ahead, our products will use the new innovation starting in 2014. Imagine diffusing heat where you want it; electromagnetic power; and charging at the speed of light, without wires or heat sinks, and making thinks go 'black'.
FRACTAL CEO IS KEYNOTE AT INTERNATIONAL FRACTAL CONFERENCE
Our CEO Nathan Cohen, fractal and antenna guru, is a keynote speaker at the International Conference and Workshop on Fractals in November. Dr. Cohen will be giving talks on fractal metamaterials, innovation, and the long awaited review of fractal antennas.
TEAM FRACTAL GROWS
TEAM FRACTAL now has newbies Drew, Bruce and Phillipe. Welcome aboard!
'WIN-DOOR' CLOAKING VIDEO NOW UP ON YOUTUBE
A big hit at the DAYTON HAMVENTION, our invisibility cloak demo with a 'window-door' is now up as a YOUTUBE video. 'You make a better door than a window'…or do you? See for yourself.
FRACTAL METAMATERIALS OPEN NEW OPTIONS--FOR YOU
Marconi co-invented metamaterials. Did you know we improved on Marconi with our patented fractal metamaterials? Their wide bandwidth, efficiency and unique properties give us an important edge in antenna and electromagnetic design! Our commercial design projects with fractal metamaterials have gone from a handful to dozens in just a year. Here's a reminder--one example, now with almost 50,000 YOUTUBE views.
DAS Antennas Rule
With 9 years in the business, FRACTAL is the technology and application leader for DAS antennas, with thousands and thousands sold. Contact Jane Winter to find out why: jwinter@fractenna.com
DAS heaven: From ceiling to floor--ship'em out the door!
INTERN-ALLY
FRACTAL Interns complete our Summer with three new fractalists in house. Katie, Jacob and Peter are already moving full speed ahead!
FRACTAL GOES GO DEEP
FRACTAL Antennas go underground. Think of the toughest environment to place RF and antennas. We're there, with a new and unique GPR--in situ-- solution for our cutting edge customer!
FRACTAL METAMATERIALS FIX FAULTY PHONES
"Can you hear me now?" If the answer is no, then one of our customers has the perfect in-house 'repeater' to assure cell reception in every room, offered through the cell carriers. And it's powered with our fractal antennas and fractal metamaterials -- the only, AND enabling solution!
INTEL SCIENCE FAIR (ISEF) HAS FRACTAL ANTENNA FINALIST
FRACTAL congratulates Virginia high school student Aaron Aguhob for making the finals in the Intel Science and Engineering Fair. Aaron's project is all about fractal antennas. Good luck in Phoenix Aaron!
INVISIBILITY CLOAKS BRING IN THE PILGRIMS
Did you know that FRACTAL has had on-site demo's of our amazing invisibility cloak technology for the Army, the Navy, the Air Force, NASA, and government 'agencies'? And with almost a dozen off-site demos, to hundreds of people at Radio Club of America; Yale University; IEEE Antenna and Propagation Society, and many others, this is a technology that just won't disappear!
TED TALK SHOWCASES FRACTAL WORK
The engaging TED talks finally took a fractal antenna twist! Professor Michael Frame of Yale University gave a fascinating talk on fractals in nature and technology on Feb 23. You can view his talk (look for the last one) below:
Video: http://www.youtube.com//watch?v=bz8NJ7ZVXwQ
FRACTAL ANTENNA PRIMER IN FALL
The primer will be published in the Mandelbrot Memorial Volume-- a commemorative peer-reviewed book of scholarly chapters by the late Mandelbrot's friends and colleagues. FRACTAL's CEO Nathan Cohen gives the scoop: "Others' previous reviews, including textbook chapters, are poor at best, and none of them even bothered to ask for the pioneer's input or critique. In contrast, this primer provides an authoritative,correct, accessible, and helpful introduction. Noting the emergence of the fractal paradigm shift, Cohen notes: "For years I couldn't interest anyone in a fractal antenna 'primer' article. Then, in the last few years, the explosion of foreign fractal antenna research papers hit, an amazing avalanche of external validation. Now I have to turn down requests."
AN AMAZING 25 YEARS!
Over the new year in 1988, astrophysicist Nathan Cohen beat the rap on 'no apartment antennas' by building the very first fractal element. Good things take time, but now if you've been in a hospital; a university; a commercial building; a government building; an airport; a plane; a car; a train; an athletic event; a big box store; a concert; a worship service; a doctor's office; and so MANY other places, you've probably used or been better served by our FRACTAL ANTENNAS!
GOT WIFI? THANK FRACTAL
Thousands of travelers get more productive daily thanks to airborne wifi services--now enabled with our own fractal antennas. We are proud to work with our flight services partner to make this possible!
FRIGID FRACTALS DO IT SIMULTANEOUSLY
The frigid arctic is a hostile place where friendly people keep connected via FM broadcast. We are proud to offer unique simultaneous dual frequency FM antenna bays with our well-known FM partner, which just got flying colors, in service,from their broadcast customer! Those fractals bring a warm glow to a frozen night!
FRACTAL GET DOWN TO BUSINESS
No doubt about it: 2012 was a whirlwind of commercial growth for FRACTAL--a new record in 18 years of business! And 2013 will be even bigger and better! Our specialty in custom and private label antennas means small size, wide bandwidth, and great value for our customers. We develop; we manufacture; we sell; and we license. We are the one-stop for your antenna solutions. Drop Jane a query at jwinter@fractenna.com.
WANT TO JOIN THE TEAM?
FRACTAL is looking for one and possibly two antenna specialists to join the team as antenna testers and development assistants. See the 'Jobs' link.
AND NOW…THE DEFLECTOR SHIELD!
Deflector shields up Scotty! At the Radio Club of America Symposium, we demonstrated a type of invisibility cloak that can prevent the warfighter from being injured by directed energy microwaves: it passes the dangerous radiation around to the other side. No 'microwave oven' effect or 'ricochet' damage! This 'invisibility/deflector vest' is part of a larger suit--more on that later. Want to see it in action? Here's two snapshots. Note the 'stretchin' neck' audience response at the amazing site of a 20 dB restoration of the direct power to the other side, over 20% bandwidth! Patent pending. :-)
INVISIBILITY CLOAK JOURNAL PAPER PUBLISHED
'Seeing is believing', as hundreds of engineers, scientists, and tech aficionados have witnessed our breakthrough invisibility cloak technology with their own eyes. But did you know the technology has also been vetted by scholars and published in a peer reviewed journal? Nathan Cohen's "Body-Sized Wideband High Fidelity Invisibility Cloak" is now in the latest issue of the journal FRACTALS.
WE ARE 'TOP TECH"
FRACTAL's work on invisibility cloaks made many 'top tech' lists for 2012, including the one on RFGLOBALNET. Can YOUR antenna vendor make a man disappear :-)? If we can make a man disappear, we can tackle YOUR antenna needs :-)
FRACTAL CLOAKS, WORLD-CLASS SCIENCE
FRACTAL is proud to have enabled the world of cloaking. Nathan Cohen's invention of the invisibility cloak (patent 8253639) now has a new world conquered-- the cloaking of a man! We did it first on August 13, 2012 and here's a video from one of the sessions (this one on Aug. 16). Peer reviewed scholarly paper in press. Read Dr. Cohen's second interview here. 'Cloak A Man' video link below:
Video:http://www.youtube.com/watch?v=Z_bj5NTnd_0
FRACTAL AND FLYING!
Boeing's new 787 is a dream flying machine with state of the art technology. And each 787 has FRACTAL's proprietary patch fractal antennas on board. FRACTAL is also flying other external FAA certified antennas for commercial airplanes-- lower drag and highest performance. Very soon, FRACTAL will be on most domestic flights on most jet models!
FRACTAL'S MANUFACTURING LOOKING PRETTY
We make antennas! Here's two shots of some of our assembled antennas--ready to ship. Made proudly in the USA! We'd love to make some for you. Try Jane Winter at jwinter@fractenna.com.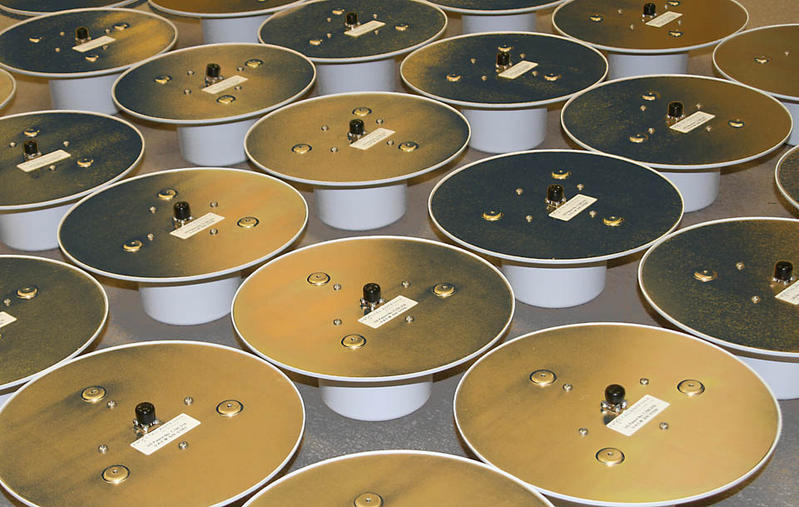 FRACTAL SHOWCASED IN MAGAZINES
We can't make this up-- the article is called : "An Amazing Adventure into the Real World of Fractal Antennas", by Carole Perry, in World Radio and also on pulseontechcom. It tells a fun day at FRACTAL with our new friends from the Radio Club of America, and Austin Schaller's cool and youthful dive into the world of fractals!
WORLD'S FIRST INVISIBILITY CLOAK PATENT-- ENABLED BY FRACTALS
It's true-- the invisibility cloak is an American invention, invented by our CEO Nathan Cohen. See patent 8,253,639. Other patent applications by British and American universities have been rejected by the U.S.patent office. Fractals have made science fiction into science fact. Check out this PART 1 INTERVIEW with Nathan Cohen for some interesting background. If we can make thing invisible, we certainly can take on your antenna challenge!
Video:http://www.youtube.com/watch?v=2BrVxpPYMiA
IEEE --ANTENNA AND PROPAGATION SOCIETY TALK IN OCTOBER
Nathan Cohen will be giving the much awaited 25th ANNIVERSARY FRACTAL COLLOQUIUM in Boston at the IEEE Antenna and Propagation Society meeting on Oct 25. And it's true--there is a live invisibility cloak demonstration!
GOT LIVE! INVISIBILITY CLOAK DEMONSTRATION AT BOXBORO
On August 25th, TEAM FRACTAL gave the first off-site, live demonstration of an invisibility cloak. In front of 150 radio amateurs and guests, we showed a working cloak and made a metal mast disappear. We also showed a very special video; more later!
TECHNICAL STAFF GROWING
FRACTAL welcomes two fulltime engineers to TEAM FRACTAL this Fall. We'll be looking for technicians in the new year, too. Check out the 'Jobs' link.
PBS SEGMENT NOW ON YOUTUBE
The amazing video segment with CEO Nathan Cohen's description of the first fractal antenna is now on Youtube at:
Video:http://www.youtube.com/watch?v=3Xq6h31UCKQ
FRACTAL ANTENNAS AT THE OLYMPICS
It's true: our CLAIR CF1090 antenna will be used en force at the Summer Olympics in London. The superior performance of this low profile fractal antenna makes it the best choice for Olympic coverage. More during the games!
CLOAKING BREAKTHROUGHS
This Summer, FRACTAL will report two major milestones in the practical implementation and use of invisibility cloaks. As they say, "this changes everything". Watch for the press announcements and videos.
FRACTAL "MIMO" ANTENNA FLIES HIGH
We are proud to have an FAA certified fractal MIMO (multi IN multi OUT ) antenna exclusively for one of our aviation customers. This extremely low profile antenna enables a communications network that you've heard about or likely used. Another great example of folks using fractal antennas: enabling but low key.
FRACTAL CHIP SANDWICHES
They're small, they fit in recessed pockets, and they make the ultimate hideaway. They're fractal chip sandwiches! Not just a pun on our CEO, they are a great example of a production antenna for one of our customers, designed, manufactured, and sold by FRACTAL , tailored for their need and application. We can take a bite out of your tough antenna problem also. Contact Jane Winter at jwinter@fractenna.com
NEW FRACTAL ADVANTAGE VIDEO THIS SPRING
Our fractal antenna videos have now received almost 80,000 views. How's that for technical video! The second in our series of short videos gets released in May, with another fractal advantage which gets people asking—'you can do that?? Stay tuned for another cool antenna surprise.
UACM—THE CLASSIC DAS ANTENNA
In an age of product life cycle of months or weeks, our UACM DAS antenna has withstood the test of time. Now in its 7th year of production, this fractal wideband antenna is indeed 'universal access'—built for existing user bands and future ones years from now! Find out why the UACM is a 'classic'. Contact Jane Winter at jwinter@fractenna.com
2011: RECORD COMMERCIAL SALES FOR TEAM FRACTAL
The past year saw record commercial sales for Fractal Antenna Systems, a trend that will be beat in 2012. We deliver superior vended antennas and licensed solutions with our patented and proprietary fractal technology. Our American Made antenna products are tailored for customer needs. Interested? Check with Jane Winter at 781-275-2300 x09 or jwinter@fractenna.com
NEW JAMMING/SIGINT ANTENNA: 'DISSIMULATION V'
It's shaped like a shallow box (we'll let you guess what size); it mounts on metal or walls; it powers out at over 100 watts and has full spectrum, linear polarization, from VHF on up. It's FRACTAL's new DISSIMULATION V -- antenna and you can't tell what it does by looking at it. It's a wonder of fractal antenna and fractal metamaterial engineering. If you have the need, we have the antenna. Please contact Nathan Cohen at ncohen@fractenna.com to vet the need. USG and/NATO customers only please. We respectfully decline marketing survey queries.
IEEE ANTENNA AND PROPAGATION SOCIETY INVITED TALK
On May 3, Dr. Nathan Cohen will give an invited colloquium talk for the IEEE Antenna and Propagation Society—his first. Entitled: 'You Can Do That? Twenty Five Years of Fractal Antennas' Dr. Cohen will articulate the advantages that fractals offer and debunk the outdated myths about performance. Time Will Tell? It sure has! Come and see: it was worth the wait.
WE SHOWED'EM—SRO DEMO AT AMERICAN MATHEMATICS SOCIETY
At the January meeting of the American Mathematical Society, our CEO Nathan Cohen gave an invited talk on fractal antennas. Anticipating modest interest from the live demo, our staff was floored when almost 150 people got up to get a closer look at the fractal advantage!
FRACTALS WEATHER (ARTIFICIAL) STORM
Our fractal antennas sure take a beating! One of our commercial customer- exclusive fractal antennas just underwent rigorous independent testing, including massive environmental tests. Conditions reminiscent of the Martian surface; Amazon in the rainy season; shake and quake; you name it. We passed it. Oh, and lightning zaps as well, showing a fractal loves another fractal. In comparison, other antennas using MEMS switching fuse under such torture. Beware the tortuous path—unless its fractal!
FRACTALS AT THE OLYMPICS
A customer-exclusive fractal antenna design will be a key tool to bring the Olympics to you his Summer. This is one of many private label antennas we design, manufacture, and deliver for custom niches. London calling! Stay tuned for more details.
FRACTALS BRING CHRISTMAS TO NEW YORK
Fractals made the season bright with the lighting of the Christmas tree at Rockefeller Center this past Christmas. The CLAIR CF 10190 fractal antenna, designed and manufactured by us, also made sure that Justin Bieber got the message across at the Tree lighting ceremony. Check it out at: http://www.prosoundnewseurope.com/main-content/full/wireless-first-uses-new-antenna-for- christmas-tree-event
GOT BODY? GET FRACTAL!
Commercials needs for on-body or clothing-attached antennas ('body worn antennas') has recently exploded—and we have the designs to meet those needs. Leveraging a decade of defense and government development, those lessons learned now map directly to the commercial arena. Let us know how we can help you. Contact Jane Winter at 781-275-2300 x09 or jwinter@fractenna.com
YOUNG HAM WINS RADIO CLUB OF AMERICA AWARD
FRACTAL congratulates Austin Schaller,KD0FAA, for his award winning presentation "Fractal Antennas" at the recent Radio Club of America meeting in Texas. Great job Austin! You can catch Austin's talk on Youtube.
INVITED DEMO GIVES 'AHAH!' MOMENT
Nathan Cohen's recent invited colloquium for the IEEE Communications Society had the bonus of a live demonstration of fractal antennas. As part of the 25th year celebration of the creation of fractal antennas, Cohen is giving demo's whenever possible: " I invariably get the 'Ahaah' gasp of response when the fractals go up. There's nothing quite like being able to see and touch the fractal advantage!"
CLAIR GLOBAL AND FRACTAL ANNOUNCE JOINT WIDEBAND FRACTAL ANTENNA
FRACTAL is proud to work with its partner Clair Global , creating and manufacturing a revolutionary new antenna for wireless audio and wireless control. Concentrating on the wireless solutions for performance venues and the sports, music, and entertainment industries, this new antenna is nearly flat and unobtrusive, and replaces the cumbersome 'arrowhead', 'potato cannon', and 'eyeball' antennas of the past. Sold exclusively by Clair Global. See www.clairglobal.com. More info coming soon!
Fresh from assembly and QC, the first
CF1900 FRACTAL ANTENNAS are sittin' pretty.
A BIG PRODUCTION!
October saw a record for commercial custom design projects transitioning to production. This is our cakes and ale! After the custom design, customers chose for us to provide the antenna as a vended product-- or licensed for manufacturing. The antennas ran the gamut between very small and internal to embedded and conformal. These productions came about because the FRACTAL ADVANTAGE provided a cost-effective solution the customers couldn't find elsewhere.
FRACTAL PLASMONICS - IT'S OFFICAL
FRACTAL welcomes a new revolutionary extension to our fractal technology—fractal plasmonic surfaces (FPS). Imagine antennas built into the back of a tablet, or in a wall, a credit card, or a car door. No wires, no connections, no parts. Just fractals built into material. Fat fingers or dings or mud muddying up the antenna? No problem? FPS are 'self configurable'. Like a fly's eye, if one part goes down, the others still keep on going.
INVITED PRESENTATION AT THE AMERICAN MATHEMATICAL SOCIETY
Our founder and CEO, Nathan Cohen, will be an invited speaker at the American Mathematical Society Meeting in Boston in January. Detailing some of the benefits reaped from practical fractals, Cohen will also give live demos of our fractal technology.
NEW 787 DREAMLINER—FRACTAL EQUIPPED!
Boeing's new 787 is a dream flying machine with state of the art technology. And each 787 has FRACTAL's proprietary patch fractal antennas on board. We're proud to be part of this historic plane and congratulate Boeing for a spectacular addition to aviation—well worth the wait. This is the first of several aviation-related product launches you'll see from FRACTAL in the coming months.
FRACTAL PARTNERS WITH AUDIO INDUSTRY LEADER
FRACTAL has partnered with a leader in the audio industry for wireless sound system applications. Stay tuned for more information on our revolutionary joint product for that industry—coming soon!
FRACTAL AT ANTENNA SYSTEMS 2011 CONFERENCE
CEO Nathan Cohen presented a talk on 'Fractal Plasmonics' at the AS 20011 Conference at Nashville. Warmly received, the presentation shows how our proprietary wideband use of fractal metamaterials leads to new cost effective paths for wideband antennas and electromagnetic systems.
FRACTALS... PROTESTING *OVERSIZED*OVERPRICED* CONVENTIONAL ANTENNAS

Just Kiddin': A myriad of fractal VHF sensor antennas (note SMA connectors) patiently await their turn before QC inspection for shipment to their new home. Did you know that FRACTAL makes state of the art, small antennas for industrial sensor, metering, SMART grid, and related needs?
SCATTERING –HOW OUR INVISIBILITY CLOAK STACKS UP
Our researchers have just completed the final analysis on our (world's first) wideband invisibility cloak. A substantial amount of scattering data was taken—and it clearly shows the cloak works…like a cloak! Take a look, and don't forget the invisibility cloak video (shown below).
Video:http://www.youtube.com/watch?v=_JpMJTJXf28
FRACTAL SURVIVES HURRICANE IRENE
FRACTAL is happy to report that our Waltham lab and facility has come thru damage-free with minimal disruption from this scary storm. We appreciate the dozens of kind wishes and prayers we received. They worked!
BUSY AUGUST!
We've had the busiest month of August in the company's history. Look for a major web site update beginning with our monthly update on or before September 20.
FRACTAL on PBS's NOVA
Perhaps the most popular NOVA episode yet, 'Hunting the Hidden Dimension: Fractals' is being re-broadcast. This is the episode with FRACTAL and Dr. Nathan Cohen's uncanny tale on the creation of fractal element antennas, now an exciting and internationally recognized field of electronics. Watch for it on your local PBS station. You can also find it on Youtube at:

http://video.google.com/videoplay?docid=-6917200224135375895#
FRACTAL SUCCEEDS AT COMMERCIAL LEVERAGING
FRACTAL has met the call of our customers for more commercial and product offerings. In June our expanded commercial plan went fully operational, with design, private labeled products, licensing, and off the shelf products for our customers—including new ones available now. Using 'lessons learned' from more than 15 years with military antenna innovation, our commercial products are second to none value for size, widebandeness, and performance. FRACTAL is fully committed to our commercial customers, and our growth reflects our excitement as the FRACTAL ADVANTAGE catches fire!
NEW PATENT—Our 26th U.S.
A classic tale of new ideas playing out as useful innovation continues as FRACTAL gets its 26th U.S. patent. Not only is FRACTAL the source-patent home for fractal antennas, we also continue to have active and exciting 'development and application' (DNA) on all aspects of fractal electromagnetics.
NEW CELL PHONE ANTENNA ENABLES NOVEL PHONE DESIGN
FRACTAL's new cell phone antenna presented a new and welcome solution for one of our telecom customers. It may be the world's smallest cell phone—but our fractal antenna solution made it work just like its big brothers! FRACTAL designs all its cell phone antennas with an emphasis on prudent and conservative limits for head exposure.
NEW WHIPBEATER™ ANTENNA SHIPS FIRST 1000 LOT
Filling the niche between the convenience of an on-board antenna and the performance of an external one, our new whipbeater™ antenna is a small, flat high performance fractal antenna that installs in the housing of wireless units. Especially suited for remote and SMART industrial systems, the whipbeater ™ antenna is now available and has already sold out the first lot of 1000.
CUSTOM ANTENNAS SHOW VERSATILITY OF THE FRACTAL ADVANTAGE
With our surge of growth of commercial antennas, customers are discovering our expert design ability, using our proprietary fractal technology to meet their demanding antenna needs. We are happy to consider being an exclusive vendor/ provider or license exclusivity for custom applications. Contact Jane Winter at jwinter@fractenna.com or at 781-275-2300 x09.
TEAM FRACTAL SHIPS RECORD PRODUCT VOLUME
In May FRACTAL scored a new record for shipped commercial product. Using both in-house assembly and local outsourced manufacturing we met the needs of customers across a wide spectrum of applications, vending off- the-shelf designs and custom ones for specific customer needs. We'd be delighted to meet your antenna needs. Try Jane Winter at jwinter@fractenna.com or at 781-275-2300 x09.
NEW VIDEO NOW UP—SUPER WIDEBAND BOWTIE, SMALL SIZE
Showing the better BOWTIE ANTENNA, our educational video on improving the performance of a bowtie is done with a simple piece of fractal ribbon placed on the back. It's an excellent example of how fractals can bed simply to make big changes in antenna performance.
Video:http://www.youtube.com/watch?v=Zpy0qGBDQq0
FRACTAL ANTENNA REVIEW IN SCHOLARLY JOURNAL
Dr. Nathan Cohen, our CEO, is completing an invited review of fractal antenna technology for a scholarly journal. Dr. Cohen started the field of fractal element antennas and is the inventor on the source patents. We'll post a link when published, expected in the late Fall 2011.
REVOLUTIONARY APPROACH TO MILITARY WIDEBAND ANTENNAS
Fractal has introduced the next generation of military antenna technology, which are dubbed 'dissimulation ™ antennas. The first product is a featherweight covert and conformal antenna that is rated over 50 watts from HF to S-Band. The antenna is shrunk dramatically in size and width, and it follows the important DOD adage: 'form does not give away function'. With no ohmic loads, matching units, cooling fins, ground plane requirements, nor heavy mast support, the new antenna spells a revolution for EW, DF, SIGINT , COMS, and other antenna applications. Available directly and sold to US Gov't, DOD, and NATO nations only. Contact Nathan Cohen at 781-275-2300 x01 for this important FRACTAL advantage; briefings now being scheduled.
FROM SKEPTIC TO EXCLUSIVE—CUSTOMER BENEFITS FROM FRACTAL ADVANTAGE
Did you know that skeptics become our best customers? Last Fall we convinced a skeptical lead to consider the FRACTAL advantage. Not only did we produce a superior antenna to those in their market, but just closed an exclusive private label deal with our new customer. How about you? We'd be happy to help explain the benefits of our technology. CONTACT: Jane Winter at jwinter@fractenna.com.
HIRING INTO GROWTH
FRACTAL is hiring. As we welcome a new Summer Intern and a part-time engineer, we still are looking for the multiple additions for TEAM FRACTAL in antenna engineering and technology (technician/ specialist). Check out the jobs listing for the latest update.
NEW VIDEO IN BETA VIEWING
We're conducting a limited beta viewing of our first in a series of educational videos on the benefits of fractal antennas. If you want to take some time to let us know what you think, drop us a line and we'll provide the link. Open viewing starts 10 June. CONTACT: jwinter@fractenna.com.
NO FRACTAL DOORBELL
Everyone wants to get their hands on a fractal! Our visitors often wonder why our wireless doorbell has no fractal antenna. In fact, we designed a great little fractal antenna that lay conformal on the adjacent brick--only to have it stolen the next day. When replaced, the same thing happened. Now we use the de rigeur paper clip, much like a 'genetic antenna'. Not as good a performer but hasn't been stolen yet. As a customer, your fractal antenna is either inside your device or hidden in a radom location and won't suffer the same fate as our doorbell!
CUSTOMER GRABS FACTOR OF TEN
Fractal antennas are an 'enabling' technology! Recent example: we welcomed a new customer with a solution that extended that firm's product and market—just by changing to one of our antennas. Compared to the standard competitor antenna, the FRACTAL antenna retrofit increased gain by almost 10 dB, and dramatically increased bandwidth. It's not magic; it's cutting edge electromagnetics from TEAM FRACTAL. Drop a line to Jane Winter and check what we can do for you: jwinter@fractenna.com
INTERN TO ENGINEER—WELCOME DAN!
FRACTAL welcomes Dan E. as an Antenna Engineer to TEAM FRACTAL. Starting as an undergraduate Intern, Dan jumped right in and we are proud to have him as a peer and contributor to our growth. Incidentally, we still have one slot open for a Summer Intern for 2011, but competition can be fierce. Deadline 30 April.
WHAT'S AHEAD
In the next few weeks watch for: 1) several new products; 2) web updates; 3) significant new technology; and 4) an exciting new video. Enjoy the rollout!
COMMERCIAL SURGE
FRACTAL welcomes orders this month in many commercial fields including: emissions monitoring; aviation; entertainment control systems; cellular telecom; indoor wireless; patient monitoring; GPS tracking; DOD comms; surveillance; asset tracking and management; RFID; medical tracking; spectrum management; and many, many others. Our commercial work now exceeds pre-Recession levels. Customers love our versatility—we developed/sold vended antennas; licensed; or private label manufactured. Give us a ping and find out why we are the 'go to' place for antennas. Contact jwinter@fractenna.com
TV SHOW PLOTS AROUND FRACTAL ANTENNA
The popular TV hit WHITE COLLAR finished up with a great season finale—built around our patented fractal antenna technology! Using a Minkowski Island fractal antenna as a key plot mover, the clever drama finds Mozzie and crew using the fractal antenna to discover a cache of secret Nazi stolen art in a dilapidated warehouse. "As inventor I am honored to see my invention used in my favorite TV show, noted CEO Nathan Cohen, " But of course, the plot premise that Nazis created fractals and invented fractal antennas , especially this design, is wrong, and, at the least, awkward, as Minkowski, Mandelbrot, and myself were/are all Jews. Usually I am lectured that extraterrestrials invented fractal antennas, so at least attributing it to humans in this case is a step in the right direction." Bottom line: fractal antennas were not invented by Nazis
RESEARCHERS WORLD-WIDE VERIFY THE FRACTAL ADVANTAGE
Researchers world wide have produced an explosion of research papers, independently corroborating the technology we developed and own. Our FRACTAL ADVANTAGE section showcases a sampling, with new additions each month.
VIDEOS A HUGE HIT
Our two videos have generated a great deal of interest and excitement (see below for links), with over 30,000 YouTube hits. Quite a ride for educational videos. As many of you have asked about these results being published in a peer-reviewed technical journal, we are happy to let you know when they hit the press; expected Fall 2011. Incidentally, our research collaborators also hold positions at a few good schools, including Stanford; Boston University; Cornell; Vanderbilt; U-Mass; and Harvard. Next video coming in May.
JOBS—NEW OPENINGS: FULL-TIME AND INTERNS
FRACTAL expects technical hires in Q2-Q4 2011. We also welcome resumes for our Summer 2011 Interns—closing 30 April. If you want the challenge and joys of working at the cutting edge of electromagnetics you should check out these new descriptions and see if you've got what it takes to be on TEAM FRACTAL.
INVISIBILITY CLOAK—CAN YOU SEE IT?
Video:http://www.youtube.com/watch?v=_JpMJTJXf28
At long last here is the part 1 video that is shaking the hi-tech world. See a real invisibility cloak—operating at microwaves—in action.Enjoy!
PBS NOVA SHOW RUNNING ON FRACTALS
Experiencing its next broadcast iteration, the NOVA show HUNTING THE HIDDEN DIMENSION (FRACTALS) is scheduled for PBS broadcast beginning 14 December. This is the show that tells the fascinating story of fractals, and showcases their value to understanding nature, and technology. With portions shot at Fractal Antenna Systems, and featuring CEO Nathan Cohen, this is a show you'll find riveting. PBS's re-broadcast is in memory of our late colleague Benoit Mandelbrot, who passed on October 14.
FIRST VIDEO – OUR AMAZING FRACTAL TECHNOLOGY
Video 1: http://www.youtube.com/watch?v=QWd0nEXFnrE
Have you seen it yet? If you have any interest in electronics, you'll be fascinated by our series of videos. The first shows how the world's best known antenna, the ¼ wave Marconi monopole, retrofitted with a slip on fractal metamaterial collar/sleeve to increase the gain by 3 dB and TRIPLE the bandwidth. Amazing but true—and it is enabled by our patented/proprietary fractal metamaterial/ resonator/ antenna technology. Check out the video transcript, with a high resolution graphic, HERE. Video 2, first of a two-parter on the invisibility cloak, will be posted in mid-December.
LONG-TERM PRODUCTION TAKES LEAD
This Fall, FRACTAL made the important transition to majority revenue from volume production of custom and OTS product. Notes CEO Nathan Cohen: " Development and licensing are key aspects of who we are, but ultimate it comes down to getting real antennas , lots of them, into the hands of our customers. Working with our ISO outsource partners and in-house production and assembly for government related work is proving a winning aspect of our growth strategy."
FIRST VIDEO –OUR AMAZING FRACTAL TECHNOLOGY
NEW GROWTH & A KEY COMPANY MILESTONE
November has brought the largest number of booked customers in FRACTAL's 15 years, as we emphasize the FRACTAL ADVANTAGE for our commercial accounts. Not only are the customer vehicles spread across: design & development , licensing, vended product, and custom product, but the markets served run through a wide swath of the wireless world. "Fractals aren't just pretty pictures. We put them to work, and are gratified that so many new accounts, across great variety of wireless applications see us as the 'go-to guys' for their antenna and resonator solutions", notes CEO Nathan Cohen.
PRODUCT UPDATE ON THE WEBSITE
Potential customers want to know who we are and what we've got. Well, we have more than technology—we've got the goods! Over the next few weeks, you will see more info showcasing our custom and OTS products. Of course, if you don't see what you need, we most likely have a great start with a reference design, with a quick path to a cost –effective custom solution. "Commercial customers should realize that our decade-plus experience as a technology provider for the government leads to spinoffs and lessons learned for their custom solutions—which are years ahead of the competition", notes CEO Nathan Cohen. We always welcome the feedback and let us know what you'd like to see. Call Jane Winter at 781-275-2300 x09 or email at JWinter@fractenna.com.
BENOIT MANDELBROT: SAYING GOODBYE TO A FRIEND AND COLLEAGUE
Fractal Antenna Systems shares its deep sadness over the 14 October passing of fractal pioneer Benoit Mandelbrot. Notes Nathan Cohen: "We shared a great respect and admiration for each other's work and a common vigilance along the tortuous path." Mandelbrot's profound efforts in science, economics, and mathematics transcend boundaries of subject fields that will take decades to fully appreciate and realize. "I regret that Benoit did not see things move fast enough . But paradigm shifts, especially in engineering and especially economics, eventually pick up momentum and then can't be stopped", states Cohen.
RIDING THE PRODUCTION WAVE
Sure we make'em; literally lots of'em! FRACTAL recently executed new vended production orders for customers during September in aerospace electronics; electronic warfare; sensors; and indoor wireless markets. Working with our US-based contract manufacturers assures a consistent stream of manufacturing, testing and QC for excellent product at competitive prices, delivering product in the thousands to the millions. Surprised? Ask Jane Winter at jwinter@fractenna.com.
INVISIBILITY CLOAK— FROM THE INSIDE LOOKING OUT
What should a real invisibility cloak do? If you think it should make something disappear into the background, over a wide microwave range, that let's you look out. It's not alien technology . It's Yankee ingenuity! And no one has EVER done it before! FRACTAL has just completed its two year research program on the fundamentals of invisibility cloaks and came up with a spectacular success, with first results reported in early 2009. "The patent application has been published, "notes Nathan Cohen, "and we will be submitting the full results for scientific publication shortly".
GASP FACTOR DOMINATES IN HAM TALKS
Recent talks at ham radio conventions at Boxboro and TAPR brought the unexpected drool-worthy delight of invisibility cloaks and fractal metamaterial antennas . A live demo at Boxboro, with network analyzer, antennas, and on-off comparisons highlighted the proffering of a roomful of gasps from the audience, some of whom had heard previously that fractals posed no advantages in antennas. So much for that!
A BUSY SUMMER!
FRACTAL welcomes new orders/customers in surveillance; audio wireless; radio direction finding; electronic warfare; medical sensors; indoor wireless; wireless tracking; commercial aerospace ;and concealed antennas. We also manufactured and shipped more vended antenna product this Summer than in the last 3 years. As we all grow again, we welcome the opportunity to share in your wireless growth too. Our world-renowned expertise in solving tough antenna problems takes our 'horizontal' technologies and leverages them for the benefits of customers across the board in the wireless world— commercial and government. Contact Jane Winter to discuss your needs jwinter@fractenna.com.
WIDEBAND TAKES OFF
Our IR&D program in wideband antennas for mini/micro UAV's saw its first flight test recently. Positioned on the wing underside, the antenna technology enables new uses of the tiny planes for a variety of applications. Note Dan's perfect launch swing!
WELCOME NEW FALL INTERN
FRACTAL welcomes our new gap year student from Harvard University. Remember students: if you're well qualified and taking time off in your undergraduate years, we always welcome 'semester interns'. In the last few years we've had interns from: Cornell (many many); UMass-Amherst; UMass-Lowell; Vanderbilt; Stanford; and Harvard. Preference is for students at local universities and/or those living locally. Check the job board for availability in the Winter/Spring semester.
FRACTAL REZCHIP™ LAUNCHES
Our FRACTAL Rezchip antenna system launched on 20 Sept. Look for the accompanying press release. Think of the possibilities…
WEBSITE UPDATE THIS FALL
We're finally catching up with updating the rest of the website, and you can expect a new feature: exciting videos to showcase our technologies in antennas and metamaterials. If you wish to help us help you get a better flavor of our technologies, drop us a line and tell us what you'd like to see on the site. A major revamp of the FAQ's is imminent, for example.
FLYING HIGH
Team FRACTAL is developing wideband, featherweight, conformal antenna for the next generation of UAV's. Testing them is half the fun!
Fractal's UAV Test Chamber
BODY WORN ANTENNAS GET REAL CLOSE
Our new fractal 'Stickems' ™ use our proprietary wideband technology to make sure that closeness to the body doesn't stop the antennas from working. We are experts on countering/working with the effects of human proximity on antennas, and our lessons learned apply across the board from on-body to smartphones.
WHO'S ON FIRST? TEAM FRACTAL! FRACTAL ADDS CORNERSTONE TO PATENT PORTFOLIO
It took 15 years, but patent 7,750,856 makes it crystal clear who invented fractal element antennas and who owns them. Read Dr. Cohen's account of the first fractal antenna, built in 1988 and inspired by a conference talk by Dr. Benoit Mandlebrot.
TEAM FRACTAL Summer Interns
FRACTAL welcomes Summer 2010 Student Interns from Cornell, Vanderbilt, UMass-Lowell, and Stanford Universities. Our interns will focus on no-profile wideband antennas; lab procedures and measurements; fractal metamaterials; and business development.
FRACTAL'S Summer 2010 Interns
FRACTAL'S LICENSE ROLL-UPS (LRU's) PICKING UP SPEED
Since TEAM FRACTAL's rollout of 'Design to Licensing' (DTL) on fractal antennas, companies large and small have discovered the value of rolling together our design services with a non-exclusive license to include the FRACTAL ADVANTAGE on their project's circuit boards. We call it a 'license roll-up' (LRU). In these times of customers' strained in-house development resources, FRACTAL won't leave you high and dry trying to figure out the antenna design yourself! Drop Jane Winter a line and see how this can work for you: jwinter@fractenna.com
It looks like it came from Batman's utility belt, but it's one serious wideband
antenna. Stay tuned for the FRACTAL Stick'em! (USP Patent 7345642)
HAM RADIO AND METAMATERIALS - A CONNECTION?
Some folks say ham radio's days have past, but today's leaders in wireless technology often share this common pastime and public service. Honoring our ham radio colleagues, and the hidden history and latest developments behind metamaterials, CEO and ham op Nathan Cohen will be giving a talk on 'From Ham Radio Origins: the Weird World of Metamaterials' at the New England 'Boxboro' Ham Convention on August 28. Drop by for an "eyeball QSO"!
Looking for Information on metacloak?
Information and data on Metacloak™ technologies is available now and periodically (no pun!) updated. All of FRACTAL's fractal metamaterial info is on www.metacloak.net (Note: Metacloak™ is a registered trademark of Fractal Antenna Systems, Inc.) You'll find the metacloak™ antennas and invisibility cloak materials there. If you have a 'how did you do it?' question, please send to fractalcloak@aol.com. All metacloak™ business queries are handled through jwinter@fractenna.com. Thanks!
FRACTAL'S EXPANDING DESIGN-TO-LICENSE (DTL)
FRACTAL is enjoying rapid growth in its 'design-to-license' program, where we customize our patented technology for your application, for licensing in large quantities. This is in addition to our standard option of a vended solution, or existing product, giving our customers full versatility.
FRACTAL is the patent holder on the key IP for fractal element antennas and related technologies, with broad and far reaching claims, for example, with patents 6,452,553 and 7,256,751. This makes us the friendly but singular 'go-to' guys for all fractal-related solutions. As inventors say: 'the claims are only as good as the claims'. FRACTAL's got the claims! Call us for your antenna-related solution.

WALL OF FAME—FRACTAL's IP portfolio steadily grows, with the fundamental and broad patents (plaques shown here) held on fractal antennas; fractal resonators and metamaterials; and ancillary electronics.
COMING PRODUCT THIS SUMMER - RezChip™ SYNTONY COMPONENTS™
It's a tiny chip making a part-less tuned circuit. That makes it ideal as a loading component to turn your wireless device into an antenna. Why buy an antenna when you already have the ground plane? One tiny chip - a RezChip™ - does the trick - wideband or custom multiband.
THREE NEW PATENTS ISSUED - MANY TO MORE TO COME!
The last few weeks have reaped three new US patents (7659862; 7701396; 7705798) for FRACTAL, a carry-through of management's assertion of value of FRACTAL as a technology company. Notes CEO Nathan Cohen: "We anticipate upwards of a dozen new issued patents in the next two years and have some fundamental, breakthrough surprises with recent patents pending."
WDB ANTENNA - POWERFUL NEW ANTENNA FOR EW
Shaped like a tiny, skinny dumbbell, FRACTAL's new WDB antenna for UHF + provides high power and omni coverage in an unusually small form factor. If you've got the need we've got the info. Drop an e-mail to Chip at ncohen@fractenna.com
FRACTALS… FIELD OF A THOUSAND USES
Recent new business highlights how broadly our technologies enable the commercial wireless world. A typical day may have new designs for: aerospace; wireless audio; medical telemetry; robotics; surveillance; hand held devices; pagers; RFID; public service; EC backbone; indoor wireless; and many others. Fifteen years of proprietary design leads to attacking tough application challenges with the experience to solve antenna problems that are: wideband; hidden; smaller; and high performance. If you have an antenna challenge, give us a call: Jane Winter at 781-275-2300 x09.
FRACTAL METAMATERIALS –INCREDIBLE SHRINKING LP
The log periodic dipole array is one of the best known antennas, with a characteristic arrowhead shape. FRACTAL found a way to shrink it with our proprietary metafractal™ technology. How much? Upwards of 45%, with little if any performance degradation. Have a need to know? Check in with TEAM FRACTAL via Chip, our CEO: ncohen@fractenna.com.
NEW PATENTS EXTEND OUR FRACTAL TECHNOLOGY TROVE
As a technology company, FRACTAL innovates by creating new inventions to solve tough problems. New additions include the hot-off-the-patent press: 7,659,862 and two others issuing imminently. These further cement FRACTAL's unique and proprietary IP stance from the creators and owners of fractal antenna and related technologies.
Fractal Metamaterials Under Contract
FRACTAL has won its first bona fide metamaterial contract, mere months after it publicly announced the availability of the new technology. A defense related application, the antenna design is a fractal antenna augmented by metamaterials, also made of fractals. The antenna is a much smaller design with comparable performance to a conventional one.
Record New Orders on UACM's
Fueled by price reductions with our flagship indoor wireless product, the UACM set a new orders record in Q4. Leveraging the pleasing form factor with unprecedented wideband coverage, the UACM has quickly established itself as a standard in the industry.
Third Anechoic Range Added
FRACTAL added a third anechoic range to its development antenna laboratory in Waltham, MA. Designed for 700 MHz on up, the new facility frees up a logjam on FRACTAL's main anechoic chamber.
The new chamber is modular and can be reconfigured in a matter of minutes. It also allows the engineers instant access for real-time measurement and design tweaking. Notes CEO Nathan Cohen: "Paradoxically, chamber manufacturers make their boxes so that they are great for testing but awkward for tweaking. The new chamber makes it easy to implement antenna and array design mods in real-time, rather than schlepping stuff in and out to the bench on a repetitive basis."
"Clearly the additional testing access will improve productivity and allow for the greater throughput we need with our increasing customer base in 2010", remarked Cohen.
FRACTAL NOW ON "SCIENCE TREK" ON PBS
Fractal Antenna Systems and our CEO Nathan Cohen are featured on the new TV show "Science Trek" now playing nationwide on PBS. Discussing the inspiration of science fiction; metamaterials and cloaking; and how new technologies are adopted, Dr. Cohen paints an interesting view of a future where fractal metamaterials render 'surfaces' into collections of useful things. Just a wall, ceiling or a door? Not for long!
UASM: Flat and Wideband and Now at a Great Price
Following the terrific reception for the price break on our wideband indoor wireless product the UACM, we are happy to announce price breaks on its sister product, the UASM. Systems Integrators, why not give Jane Winter a call for quote?
METACLOAK™ MONOPOLE—COMING SOON!
Fractal is proud to announce that the first major matematerial product is scheduled for launch early next year. We'll keep you posted.
VISIT METACLOAK.NET For Our Fractal Metamaterial Happenings
Many exciting new things have been happening on the fractal metamaterial front—and we've had trouble breaking away to report them. But have no fear: we'll get them out, especially those videos!
FRACTAL METAMATERIAL ANTENNAS - METACLOAK™ -
LET THE REVOLUTION BEGIN!
FRACTAL announced on 5 October 2009 its revolutionary new antenna technology. Check it out on www.metacloak.net !
UACM - The CLASSIC PUBLIC SAFETY ANTENNA - SUCH A DEAL!
We've passed on economies of scale on our flagship indoor wireless antenna. Check out the savings.
FRACTAL ANTENNA' s METAMATERIALS ON TELEVISION AND VIDEO
FRACTAL will be featured, again, on a new network television show to be broadcast around or after Thanksgiving 2009. Stay tuned! Also, we will have our videos on our metacloak™ technology up on Youtube about that time. Vu on!
FRACTAL'S RAPIQUIP™ ASSEMBLY-- NOW IN FULL-FORCE
Fractal is pleased to announce the implementation of its RAPIQUIP™ processing for moderate–sized order lot sizes. For selected defense and commercial customers, FRACTAL is now able to achieve parts procurement, final assembly, quality testing, and shipping - quickly - all within our home facility. Leveraging the talents of US vendors and contract manufacturers, FRACTAL is proud to serve the needs of our customers in this way, while helping our US based support partners at the same time.
FRACTAL Celebrates Its 15th Year
Fractal Antenna Systems is now celebrating its 15th year! What began as a humble garage-based startup has grown to become the world leader in antenna innovation—and the pioneer in fractal electronics and metamaterial applications. Committed and moving forward, join us as we continue our growth with the fascinating field of fractals!
Fractal CEO Invited Speaker at Printed Electronics USA
Fractal Antenna Systems' Nathan Cohen will be an invited speaker at the December Printed Electronics USA 2009 Conference in San Jose CA.
Printed Electronics USA (http://www.idtechex.com/printedelectronicsusa09/en/) is the world's largest conference dealing with the use of printed circuits and their uses. Innovative needs, methods, and technology applications have caused an explosive growth in that market, with continued growth forecasted despite the economic downturn.
CEO Cohen will be speaking on the prospects for practical uses of metamaterials in printed electronics. The firm's announcements earlier in the year, on the successful use of fractals as metamaterials, lead the way to near-term applications of the 'metafractal™' technology. This paves the path for taking metamaterials out of the scientists' labs and into the hands of consumers, government, and other end-users.
Notes Cohen: "We are no longer decades away from 'killer apps' for metamaterials. The issues are mainly business ones—who needs the technology; what new uses will it enable? As a scientist by training, I understand that forecasting fantastic futures from new discoveries is fun, but making those happen is the technologist's challenge." Cohen will report applications for the metafractal™ technology in a variety of enabling applications including: energy; telecommunications; RFID; computers; healthcare; defense; and other arenas.
Fractal Floating in Sea of Foam
For two weeks in early June, Fractal Antenna Systems floated in a sea of blue-wedgie anechoic foam. All three of its chambers and testing platforms have now been re-foamed for better performance and accuracy in measurements. Fractal now has capabilities from 200MHz - 8GHz in its laboratory area, with several separate and versatile testing positions. Outside capabilities continue from MF on up. We are enjoying our new Quiet Zones.
A Big Hit at Harvard
On 15 April, FRACTAL's CEO gave an invited Harvard University seminar at the Center for Nanoscale Systems on: "Small, Wide, and See-Thru: Adventures in Practical Fractals and Life on the Tortuous Path". Attended by students, researchers and engineers, the seminar presented, for the first time outside of FRACTAL's lab, data from the world's first wideband invisibility cloak, a FRACTAL invention. Emphasizing the fascinating tale of fractal antennas, the seminar also highlighted the marriage of fractal resonators to antennas, with a live demonstration on how fractal metamaterials open up new arenas for fractal antenna design and unique performance attributes.
Cohen, previously a research assistant at Harvard, pointed out how many of his ideas in science first incubated at Harvard's Cruft Laboratory, just step away from the seminar.
Fractal Antenna Featured on NOVA
Dr. Nathan Cohen, CEO of Fractal Antenna Systems, Inc. is featured on the new NOVA show:"Hunting the Hidden Dimension". The show is a fascinating romp through the emerging field of fractal applications to explain nature—and build exciting new technologies. Dr. Benoit Maldelbrot, the father of fractal geometry, tells his extraordinary story of insight and scorn by colleagues, now to see whole fields of science and technology embracing fractals as the tool they need to make better sense of nature and technology.
Dr. Cohen recounts his invention of fractal element antennas in the 80's, based on a conference meeting with Dr. Mandelbrot. From then, fractal antennas took a spring board to smaller antennas, keen insight into Maxwell's equations—and wideband antennas. The whole show is educational and fun. See your local PBS station for showings, or www.pbs.org/wgbh/nova/fractals/ for video streaming.